Dean's Circle Students
The Dean's Circle is an advisory group of students chosen to work with the Dean on matters of interest to them within the School of Science and Mathematics. There is a separate group for undergraduates and for graduate students. One student per department (for each group) will be nominated by the department head; nominees should be academically in good standing and have already expressed an interest in serving on the Dean's Circle. They represent academic leadership among the science and mathematics students.
2021-22 Dean's Circle Group
Undergraduate
Cadet Akhil Prathipati grew up in Summerville, SC. A member of the Honors Program, he is pursuing a B.S. in Chemistry with a specialization in Biochemistry and a minor in Spanish. Akhil is actively engaged on campus, serving as the Vice President of the Phi Kappa Phi Honors Society and the Omicron Delta Kappa Honors Society. Among other things, he has also served as the President of The Citadel Pre-Health Society as well as the Secretary of The Citadel American Chemical Society. He has been nominated to the Deans List, Gold Stars, Commandant's and President's List. After graduation, he hopes to attend medical school and serve as a doctor in the U.S. Army.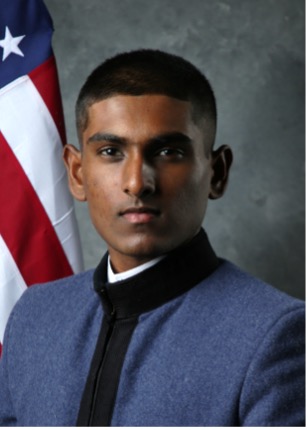 Jaret Price is a senior Health-Human Performance major from Aiken, South Carolina. Jaret is on an Army scholarship and contract and will be commissioning into the active-duty component of the Army. He hopes to commission into the Medical Service Corps with intentions of becoming a physician/administrator in the health care field. Jaret is the Health-Human Performance representative for the Swain School of Math and Science and is also a member of the Omicron Delta Kappa Honors Society. He serves as the Sierra Company Commander this year, and as the President of the Association of the United States Army. He is the recipient of multiple gold stars and deans' lists, as well as a member of the President's List and Commandant's Distinguished Service List. Jaret is the recipient of the Department of the Army's Superior Cadet Decoration, and The Citadel's Colonel Harvey M. Dick Official U.S. Army Sword. Jaret was named a Distinguished Military Graduate, ranking in the top 20% nationwide for all Army contracts. He currently serves Alpha Epsilon Delta as a committee member and looks forward to what the club and The Citadel have to offer to cadets aspiring to work in the medical field.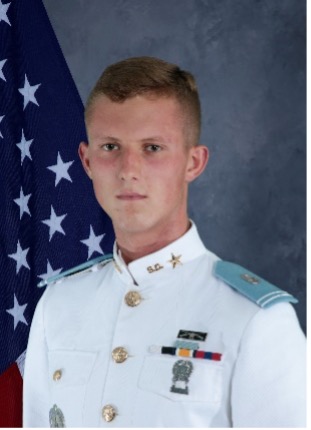 Cadet Alexandria Carter (PHYS '23) is from Scranton, PA. She is actively engaged in the Physics Department and serves as a representative and point of contact for prospective students. She is passionate about service and inspiring future leaders of America and is the recipient of the Presidential Volunteer Service Award, Bronze. Carter wants to specialize in Nuclear Physics and plans to attend Naval Nuclear Power Training Command upon graduation. She has been nominated to receive Deans List and Gold Stars.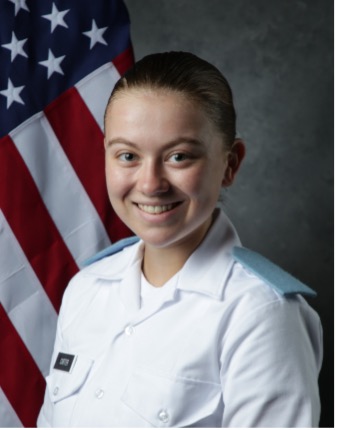 ---
Graduate Students
Mandy Enloe is from Woodstock, GA. She was active duty Air Force for five years as a U-2 crew chief. She received a B.S. in Health and Physical Education with a minor in Exercise Science from the University of Georgia. From there, Enloe was a strength and conditioning coach for Embry Riddle Aeronautical University athletics. Most recently, she has been the Graduate Assistant for The Citadel's Health and Human Performance Department while earning her M.S. in Health, Exercise, and Sport Science with a concentration in Tactical Performance and Resiliency.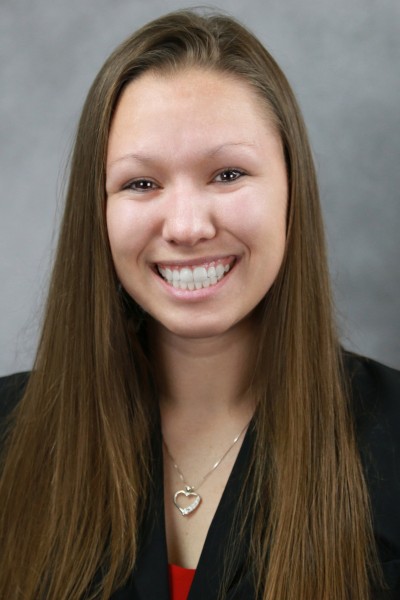 2015-2016 Dean's Circle Group
Undergraduate
Cadet Collins Langley (BIO '17) is from Memphis, TN. He spent his freshman year at Ole Miss and decided to transfer here to pursue a medical career. Recently, Collins was selected for the Cadet Community Engagement Council to represent the Junior class of Delta Company. He has also been elected Chair of the Board for Delta Waterfowl Charleston Chapter, an ecological non-profit organization dedicated to conserving wildlife game and their habitats for future generations. Collins wants to specialize in orthopedic surgery, and has been nominated to the Deans List, Gold Stars, Commandant's and President's List.
Cadet Marcus Harbol (MACS '17) grew up in Seattle, WA. At The Citadel, Marcus has been named Distinguished Freshman Math Student, competed in Math Jeopardy at the Southeastern Regional MAA Conference, worked as a tutor at the Math Lab, and served as vice president of the Math Club. He enjoys backpacking, snowshoeing, rappelling, long distance running, and ultimate Frisbee. Marcus is currently applying for an Army ROTC scholarship as well as a Department of Defense STEM Research scholarship.
Cadet Matthew C. Scalise (BIO '16) is a member of the Honors Program, and is pursuing a B.S in Biology and a minor in Spanish. Actively involved on campus, Cadet Scalise serves as President of The Citadel Biology Club (BioCid) and Vice President of the Pre-Health Society. Among other things, he has also served as Secretary of the Tri-Beta Honor Society as well as Treasurer of the Honors Program Student Advisory Council (HPSAC). He is originally from Orangeburg but now lives in Myrtle Beach, South Carolina. After graduation, he hopes to attend medical school and become an orthopedic surgeon.
Officer Candidate Brennan (CHEM '18) enlisted in the Navy in 2006 in the Nuclear Propulsion program, reporting to Charleston for initial training. Following training, he reported to his first submarine, USS Hampton, in 2008 and served for 5 years completing 2 deployments in 2 different theaters. After this, he returned to Charleston to serve as an Instructor in chemistry, materials, and radiological fundamentals at the Naval Nuclear Power School. He was selected for the Navy's STA-21 program, and reported to the Citadel in 2014 to complete his degree in chemistry. Following graduation he will commission, and return to the submarine service as an officer.
Sgt Alfonso Rogers (HESS) was born and raised in Warner Robins, Ga. In 2006 Alfonso enlisted into the Air Force as a C-17 Loadmaster spending eight years on active duty, bringing him to JB Charleston. He is now serving as a reservist in the 701st Airlift Squadron while pursuing his undergraduate degree in Sport Management. He has been a Gold Star and Dean's list recipient during his time at The Citadel. Actively involved on campus, he serves as President of the Student Veterans Association and the Vice President of the HESS major's board. Alfonso currently officiates Men's NCAA Division II basketball and serves on the Medal of Honor Bowl committee. Upon graduation, Alfonso aspires to work in professional sports. He is a devoted father of two boys and husband to Crystal.
Cadet Dylan Green (PHYS '16) from Woodruff, SC, is serving as the physics undergraduate student representative. He is a member of the Honors Program. He is a member of the Regimental Band and Pipes and also serves as Regimental Supply Officer on campus. He is a six-time Dean's List recipient and received a one-time nomination to President's List. He spent the past two years working with Dr. Robert Clark in the ExCitAtIon (Experiments at The Citadel on Atoms and Ions) Group on campus. This past summer he worked with Dr. Ken Brown at Georgia Institute of Technology in the Brown Lab Group, aiding in the design and construction of a laser frequency-stabilizing optical system for use with their ion traps. Dylan plans to attend Georgia Institute of Technology for Graduate School in Atomic, Molecular, and Optical Physics following graduation.
---
Graduate Students
Charlye Marger Christie (BIO) earned her bachelor's degree in International Business and Italian at the College of Charleston in 2009. Later at the Citadel, she received her first Master's in Health, Exercise, and Sport Science. Charleston currently works as a research specialist at the MUSC Center for Oral Health Research as she completes her MA in Biology.
Justin Weir (HESS) is a native of Charleston, South Carolina. He graduated from The University of South Carolina in 2014, with a degree in political science. He currently is working as an intern with the Charleston Battery soccer team, and is working towards his Masters in Sport Management.
Rachel Graves (MAT) has a Bachelor's of Science degree in Mathematics from the University of South Carolina. She graduated from USC in 2011 and began teaching at First Baptist School in 2012. Rachel is currently in her third year teaching Algebra 1 and Algebra 2 at FBS.
Thomas Lee (MS Computer Science) is a 20-year Air Force veteran. Enlisting in 1995, Thomas' career began as a B-52 mechanic at Barksdale AFB, LA. After deployments for Operations Southern Watch and Allied Force, Thomas sought work in the private sector with jet engine manufacturer Pratt & Whitney in Connecticut. Soon after, however, he found his way back to the Air Force as a reservist and full-time civil servant at Charleston AFB serving as a mechanic on the C-17. Shortly after arriving at Charleston, Thomas received orders to return to active duty and deploy to Iraq in support of Operation Iraqi Freedom. Before his tour ended, Thomas's travels took him to dozens of countries spread out over five continents. Along the way Thomas completed an AS in Aviation Technology and BS in IT—all while amassing seven years on active duty and eight years in the civil service. When his last tour ended, he spent six years as a network administrator for the Air Force and as a private IT consultant in the Charleston area. In 2011 Thomas brought his skills to SPAWAR where he currently specializes in Cyber Security. Thomas is working toward an MS in Computer Science at The Citadel while continuing to serve in the Air Force Reserve at the rank of Senior Master Sargent at Joint Base Charleston.
Jennifer Clark (MAT), a Noyce scholar, received her Bachelor of Art's degrees in Mathematics and Physics from the University of North Carolina at Charlotte in 2012. She has lived in Charleston since then, and is excited to start her career at a local high school after graduation.
Brendan Reilly (MA Exercise Science) is originally from Sumter, South Carolina, where his father was stationed at Shaw AFB. Brendan went to high school at Thomas Sumter Academy and graduated with a B.S. in Sport and Exercise Science from Coastal Carolina University in 2012. He worked in the hospitality industry for a couple years after graduating before pursuing a Master's in Exercise Science here at the Citadel. Brendan plans on graduating in May of 2016. He is currently a GA with the remedial PT program at the Citadel and works with a co-op group with Roper St. Francis hospital as an exercise physiologist. After graduation, he has ambitions of pursuing a PhD and getting into research.
2014-2015 Dean's Circle Group
Cadet Collins Langley (Biology)Cadet Marcus Harbol (MACS)Cadet Grace Raines (Chemistry)
Officer Candidate Sam Long (Physics)
Cadet Chris D'Esposito (MACS)
Cadet Matthew Scalise (Biology)
Charleston Marger (Biology)
Rachel Graves (MAT)
Justin Weir (HESS)
2013-2014 Dean's Circle Group
Cadet Ryan Boodee (Physics)Cadet Albert Hammett, Jr. (HESS)
Cadet Philip A. Jordan (Biology)
Cadet Grace Raines (Chemistry)
Cadet Hugh Urey (MACS)
Whitney Cubbage (MAT)
John Ravan (MACS)
Brittany Williams (HESS)
Carly Bess Williams (Biology)