Reports & Cadet Blog
The Citadel is following the work of NASA astronaut Col. Randy Bresnik (Citadel Class of 1989) from training, to the launch from Russia, and from his time commanding the International Space Station, to when he is back on Earth which is expected to be in December 2017.
(Click on the messages below or scroll down to view them in order from the beginning.)
MEET THE BLOGGERS
Cadet Angelica McNerny, began this blog while she was a senior in the South Carolina Corps of Cadets, reporting on Bresnik's training for Expedition 52/53 to the Internaltional Space Station. McNerny is now serving with the U.S. Airforce as an officer in Space Systems Operations training after graduating from The Citadel in May 2017 with a degree in physics.
Cadet Rafael "Ralf" Gonzalez, took over the blog in the fall of 2017. He is a mechanical
engineering major with a minor in aeropsace studies. He is from Miami.
"I have a vested interest in what lies beyond our atmosphere," says Gonzalez. "After graduating from The Citadel, I plan to attend graduate school for aerospace engineering with a focus on astrodynamics and then work for either NASA or a private aerospace company."
Gonzalez conducts research with Patrick Bass, Ph.D., a member of college's Mechanical Engineering Department faculty. They are researching orbital mechanics, which involves the design and optimization of spacecraft trajectories.
"We have participated in the Global Trajectory Optimization Competition and the Chinese Trajectory Optimization Competition, and we will continue to partake in these and other annual events," says Gonzalez. "Through this blog, I hope to share my love for this complex and lively realm and promote an increased understanding and appreciation of space exploration."
We arrived in Houston, Texas in the evening on Wednesday, Dec. 7, excited to meet with Col. Randy Bresnik and to be in Lone Star State. As I settled into my hotel room, I got a surprising phone call from none other than The Citadel Space Star himself, Col. Bresnik. After giving me a warm welcome to Houston, we went over the next day's itinerary and it began to dawn on me that I was on the phone with one of the handful of men and women who've travelled beyond the sky. I went to sleep that night eagerly anticipating the following day.
Early Thursday morning, after Citadel videographer Sam McAdams and I checked in and got our security badges, we were lead to Johnson Space Center's Building 9. It houses the Space Vehicle Mockup Facility, a full-scale replica of the International Space Station, which I'll refer to as the ISS for the sake of brevity. We briefly met with Col. Bresnik and then he returned to his training on the mockup.
From Left: Videographer Sam McAdams, Cadet McNerny, Col. Randy Bresnik
The astronauts practiced various emergency scenarios including quarantining atmospheric and ammonia leaks and detecting/extinguishing fires onboard the ISS. Col. Bresnik and his colleagues were equipped with manuals and a training staff of more than fifteen individuals. I was astounded to see the amount of detail that not only comprises the physical mockup itself, but the training as well. I will be sharing more of those details in future blog posts and videos.
As I observed the emergency training, I was particularly impressed by the cooperation and teamwork of the astronauts. The American and Russians went back and forth between languages to solve the problem at hand quickly and efficiently. The execution of their duties appeared seamless as they ticked off a very long list of complex objectives— almost second nature due to their attention to detail and copious amounts of practice. Watching the scenarios served as a reminder of just how volatile the interplanetary environment can be. There is no "astro-carpenter" that comes up to fix the ISS when something breaks, or "astro-firefighter" that flies up when something starts burning. The astronauts must be self-reliant and industrious, and above all confident.
Not many people can say they've met a real live astronaut. I'm thankful every day for the opportunity afforded to me by Col. Bresnik, the Johnson Space Center, Space Center Houston, and The Citadel. Thanks for checking out our blog and stop by soon for more on our #CitadelSpaceStar!
MESSAGE 2: HOUSTON VIDEO OVERVIEW
MESSAGE 3: REMEMBERING JOHN GLENN
Hello everyone,
It seemed a bit surreal, but I was with Col. Bresnik at Johnson Space Center, along with his teammates and a large NASA training crew on the day it was announced that American hero and space pioneer, John Glenn died. He was 95 years old.
Part of a statement by President Obama honoring John Glenn included this:
"John always had the right stuff, inspiring generations of scientists, engineers and astronauts who will take us to Mars and beyond--not just to visit, but to stay. Today, the people of Ohio remember a devoted public servant who represented his fellow Buckeyes in the U.S. Senate for a quarter century and who fought to keep America a leader in science and technology. Our thoughts are with his beloved wife Annie, their children John and Carolyn and the entire Glenn family. The last of America's first astronauts has left us, but propelled by their example we know that our future here on Earth compels us to keep reaching for the heavens. On behalf of a grateful nation, Godspeed, John Glenn."
Col. Bresnik was kind enough to share his thoughts about one of the world's first astronauts. Just click the video below to watch.
Very respectfully - Angelica
MESSAGE 4: TRAINING FOR EMERGENCIES ON THE INTERNATIONAL SPACE STATION (ISS)
MESSAGE 5 - COURTESY OF NASA: GET TO KNOW COL. BRESNIK AND THE NEXT SPACE STATION CREW
MESSAGE 6: EXPEDITION UPDATE
While visiting Johnson Space Center in Houston recently, I learned a lot about Col. Randy Bresnik's upcoming space mission. Mission 53 will launch from the Baikonur Cosmodrome, which is located in Kazakhstan and has been the launch site for Soviet and Russian space missions since 1957. The
launch is set for late May, with a possible delay of two months. Col. Bresnik, who is commanding the expedition, will be traveling aboard the Soyuz MS-05 spacecraft with two additional crew members, Sergey Ryazanskiy who is Russian and Paolo Nespoli who is Italian.
Once docked with the International Space Station (ISS), the crew will participate with Mission 52 until Col. Bresnik assumes command of Mission 53 in September. He will be the first Marine Corps. Officer to command a mission on board the station and the second astronaut to celebrate his 50th birthday in space!
Col. Bresnik will be incredibly busy while orbiting above us. Much like cadets at The Citadel, astronauts have their daily schedules planned down to the minute — including their free time. His previous mission, STS-129, in November 2009 lasted only 11 days and included two extravehicular activities, better known as space walks. Due to its longer duration, the Expedition 52/53 astronauts will have significantly more time for a variety of duties and activities. That includes observing the Earth from the ISS's windowed cupola, something Col. Bresnik mentioned that he is especially looking forward to when I spent the day with him to observe training at the Johnson Space Center. During this time, he and his fellow crew members will be using photography and social media to give us a glimpse into their experiences in space and show us their unique view of the Earth below.
Keep checking back for more information and updates as our Citadel Space Star's launch creeps closer.
Angelica
MESSAGE 7: STAYING FIT IN SPACE
Col. Bresnik shows me the equipment he uses to train for life is space. The astronauts use the same equipment on the ground that they will use on the space station.
I got to try the equipment too!
MESSAGE 8: NASA ASTRONAUTS AND SCIENTISTS MEET AT THE CITADEL TO DISCUSS THE FUTURE OF SPACE EXPLORATION DURING 10TH ANNUAL PRINCIPLED LEADERSHIP SYMPOSIUM
What a day we had! One of the few humans who has walked on the moon, Brig. Gen. Charlie Duke, Col. Bresnik, NASA mission director and Citadel alumnus ('85) Steve Odendahl, NASA planetary geologist, Noah Petro, and ...well...me...joined for a panel at The Citadel in March to discuss resilience in space exploration. It was amazing to be a part of the compelling discussion, led by Dean John Weinstein who heads The Citadel School of Science and Mathematics.
Col. Bresnik joined us remotely from his training in Russia as he continues preparations for what now is expected to be a mid-July expedition to the International Space Station. Hearing Brig. Gen. Duke, Col. Bresnik, and the remarkable two scientists discuss the current challenges for space exploration, as well as their hopes for the future was enlightening for the standing-room only audience. You can watch the discussion here.
MESSAGE 9: HEADS UP ON APRIL 20TH LAUNCH THAT COULD INCLUDE COL. BRESNIK, PLUS A NEW JULY LAUNCH DATE FOR EXPEDITION 53
Angelica McNerny here with an update about Col. Randy Bresnik (@AstroKomrade) and his training
and launch dates with NASA. We heard from him this week.
"New experience for me. We are headed head down to Baikonur Cosmodrome as the backup crew to the two gents that will be launching 20th of April, Expedition 51," reported Col. Bresnik in a recent email.
We will be watching to see if he takes part in Expedition 51. The launches are amazing to watch livestreamed on NASA TV. You can see them at this link. If Col. Bresnik is not needed for Expedition 51, he will return to his training to take over command of the International Space Station on Expedition 53, which no take place on July 28, 2017, after being pushed back from the original date in May.
Much more to come on our Citadel Space Star blog, including a look at how anyone can "play" astronaut at Space Center Houston ─ which would make a great summer trip.
And, don't forget to follow Col. Bresnik's work on The Citadel's Instagram and Twitter using #CitadelSpaceStar as well as with his handle @AstroKomrade .
Very respectfully,
Angelica
MESSAGE 10: LEARNING THE HISTORY OF AMERICA'S SPACE EXPLORATION WHILE PREPARING FOR COL. BRESNIK'S JULY EXPEDITION.
Hello everyone –
I am happy to say that I am now Second Lieutenant Angelica McNerny, having commissioned as an officer in the U.S. Air Force just before graduating from The Citadel in May. I will keep providing updates about our Citadel Space Star, until a new cadet takes over when Col. Bresnik is on the International Space Station. Col. Bresnik was on standby as a backup crew member for Expedition 51 which launched in April but was not needed. He is now back on track for Expedition 53 in July.
Part of my research in preparing to blog about Col. Bresnik's upcoming expedition took me to Independence Plaza located in Space Center Houston, which is close to Johnson Space Center. For science geeks (and everyone else too), Space Center Houston is a remarkable and fun place to visit to learn about America's space exploration – perfect for a summertime family outing.
Independence Plaza houses the world's only shuttle carrying aircraft display with a mock shuttle attached. Visitors are allowed inside the craft and the mock shuttle to get a glimpse of the extraordinary feat of modern engineering. As a physics major, I enjoyed the educational displays housed within the craft. They demonstrated some of the scientific principles I've learned through my education right here at the Citadel.
| | |
| --- | --- |
| | |
If you plan in advance of your visit, you can register for Lunch with An Astronaut. I also attended a presentation by Col. Brian Duffy, USAF (Ret.), a NASA astronaut who was speaking to visitors at Space Center Houston. He earned many honors during his time in the Air Force, including the Distinguished Flying Cross. He was selected by NASA for astronaut training in 1985 and logged more than 40 days in space as a veteran of four space flights. He talked about serving as spacecraft communicator in Mission Control numerous times and as Deputy Director (acting) of Johnson Space Center at one time. He is now a vice president with Lockheed Martin Corporation. It was exciting to hear him speak.
I'll show you more of the center later. As our space program moves forward, places like Space Center Houston help us remember the milestones we've conquered through the shuttle program and how far we've come. For more on this, check us out on Facebook or follow us on Twitter or Instagram using #CitadelSpaceStar!
I hope you enjoy this mini-video from Independence Plaza.
Very respectfully,
Angelica
MESSAGE 11: CONTROLLING THE MISSIONS
We are about two months away from the projected July 28th launch of Expedition 53 which will be commanded by Citadel alumnus, Col. Randy Bresnik. When I went to Houston to observe a portion of his training for the mission, he showed us the two NASA Mission Controls at Johnson Space Center - the old, and the new. One is bustling with activity and every type of techonology imaginable that could be needed by the mission control team. The other one is quiet, but full of memories about the earliest achievements and challenges of our country's space exploration. Take a look at both mission controls and don't forget to start planning your launch watch party!
Very respectfully,
Angelica
MESSAGE 12: THE OFFICIAL EXPEDITION POSTER
The official NASA poster for Expedition 52 is out which means Col. Bresnik's launch date is rapidly approaching. Remember, he is a part of two expeditions, 52 and 53. While he is aboard the International Space Station the station command will be turned over to him, which is when it becomes Expedition 53.
We thought you'd enjoying seeing the poster. PS - my last blog post is coming soon. At that time I'll introduce you to our new Citadel Space Star blogger, Cadet Chris Keane.
Very respectfully,
Angelica
MESSAGE 13: ASTRONAUT MOMENTS FROM NASA - RANDY BRESNIK
Citadel alumnus and NASA astronaut Col. Randy Bresnik talks about his inspiration, and his upcoming long-duration mission to the ISS. (Courtesy of NASA)
MESSAGE 14: SUMMERTIME FUN IN HOUSTON WHILE WE WAIT FOR THE LAUNCH
With all eyes on outer space because of the eclipse and Expedition 42/53 to the International Space Station with Astronaut Randy Bresnik, a graduate of The Citadel – it's the perfect time for our Citadel Space Star blogger to take a tour of Space Center Houston. While The Citadel team was in Houston to cover Col. Bresnik's training for the ISS at Johnson Space Center, the folks at Space Center Houston, welcomed them into the 250,000 square-foot educational complex and space museum to have a look around. It's the Official Visitor Center of NASA Johnson Space Center where extensive science education programs are always underway.
MESSAGE 15: COL. BRESNIK LIVE FROM RUSSIA DURING FINAL PREPARATIONS FOR EXPEDITION 52/53 LAUNCH
Col. Bresnik takes time out of his last days of preparations to talk with Cadet Jared Turnage, who hopes to follow in Brenik's footsteps someday. Turnage is a rising senior and physics major who is attending The Citadel on a U.S. Airforce scholarship and recently spent three weeks in pilot training learning to fly gliders.
The video signal from the Gargarin Cosmonaut Training Center in Star City, Russia, provided by NASA, is rough at the beginning of the conversation but clears up after the first minute.
MESSAGE 16: ALL YOU NEED TO KNOW IN ONE MINI VIDEO
Col. Bresnik is a leader around the world...literally. Here's a quick look at NASA Astronaut Randy "Komrade" Bresnik's upcoming mission to the International Space Station.
MESSAGE 17: COL. BRESNIK PASSES OVER THE CITADEL
Be sure the keep up with Col. Randy Bresnik's work aboard the International Space Station by following him on Twitter, Facebook, and Instagram.
Beautiful Charleston, I know, not my best picture, hard at 17,500 mph! … but I can still see the parade deck at @Citadel1842! pic.twitter.com/0mtxT7XfHj
— Randy Bresnik (@AstroKomrade) August 8, 2017
MESSAGE 18: CHANGING COMMAND - BRESNIK BECOMES FIRST MARINE TO COMMAND THE ISS
Several days before the Change of Command Ceremony on the ISS, Col. Bresnik wears a Citadel shirt as spends the day preparing. He send the photo to us for a fun surprise.
Ad he and the others were preparing, Hurricane Harvey was taking a toll on Texas, with Johnson Space Center right in the middle of the storm. The ceremony could not be shown on NASA TV on September 1 due to the storm, but it took place as scheduled, at 1:30p.m. EDT, Col. Bresnik became Commander Bresnik, as Fyodor Yurchikhin of the Russian Space Agency turned over control of the station.
Yurchikhin, and NASA astronauts Peggy Whitson and Jack Fischer returned to earth safely the next day.
MESSAGE 19: THE POST & COURIER REPORTS ON BRESNIK'S DOWNLINK EVENT WITH CADETS AND LOCAL SCHOOL CHILDREN
As seen in The Post & Courier ; by Bo Petersen
As he flies 200 miles above the earth at speeds of up to 17,500 mph, NASA astronaut and Citadel graduate Randy Bresnik will take questions from students at Laing Middle School in Mount Pleasant.
Bresnik, aboard the International Space Station, will answer questions from Laing students on Friday during a 20-minute window between 9 a.m. and 11 a.m.
Citadel cadets and The Citadel's STEM Center of Excellence will assist Laing students during the live conversation.
Students across the Charleston County School District will also be able to watch and listen, said professor Jennifer Albert, director of The Citadel's STEM Center.
"Though the event is being held at Laing Middle School, numerous other Charleston County School District classes will also be watching along with others on The Citadel campus," she said. "Because the live downlink will also be shown on the NASA TV website, STEM teachers in the Lowcountry, across the state and around the country should consider using this exciting STEM-in-action exchange as a teaching tool for their classes."
Citadel cadets will visit Laing eighth-graders to teach them about Bresnik, a 1989 Citadel graduate and a colonel in the Marine Corps. The cadets will instruct students about the space station and demonstrate how the downlink works. They'll return on Friday to lead the conversation with Bresnik.
Bresnik was selected from about 4,000 applicants in 2004 to become one of the 11 members of NASA's Astronaut Class 9, and is the first Citadel graduate to fly in space. Expedition 52/53, Bresnik's current mission, is his second on the Space Station; the first was in 2009. He is expected to return to Earth in December.
Bresnik, whose Twitter handle is @AstroKomrade, was on board the space station during the recent full solar eclipse, and has been posting pictures on Twitter.
NOTE: THIS EVENT WAS POSTPONED TO OCT 2. DUE TO CAMPUS COMPLICATIONS FROM HURRICANE IRMA
Commander Bresnik knows how to show his true colors. Rocking a space station wardrobe that includes not one, not two, but four Citadel shirt selections, our Citadel Space Star is certain to earn the title of best-dressed in space.
We very much appreciate your school spirit, Commander, and we are enjoying your updates from the International Space Station! Thank you for thinking of us.
MESSAGE 21: COMMANDER BRESNIK SPEAKS WITH STUDENTS FROM LAING MIDDLE SCHOOL OF SCIENCE AND TECHNOLOGY


Led by Citadel physics major, Cadet Jared Turnage, the eight grade class at Laing Middle School of Science and Technology got to learn from NASA astronaut, and Citadel alumnus, Col. Randy Bresnik as he floated in space. The current commander of the International Space Station spent 20 minutes answering questions from students and demonstrating some of the aspects of life on the station. Watch the live downlink session, courtesy of NASA, below.
MESSAGE 22: WHAT'S IT LIKE TO SPEAK TO THE COMMANDER OF THE INTERNATIONAL SPACE STATION WHILE HE'S FLOATING IN ORBIT?
This is what a Citadel cadet, a principal, and students from the STEM focused Laing Middle School of Science and Technology had to say after NASA provided a live downlink opportunity for them to converse with Citadel Space Star, Col. Randy Bresnik.
MESSAGE 23: "WALKING" AROUND IN SPACE ON OCTOBER 20
One of the most exciting tasks performed on the ISS is a spacewalk, or extra-vehicular activity (EVA). This is when astronauts step out into space to conduct critical missions that the station's two robotic telemanipulator units cannot. Two astronauts on Expedition 53's crew (the current team manning the station), our very own Randy Bresnik, commander, and Joe Acaba, flight engineer, will be conducting their third and final spacewalk related to this project on Friday, Oct. 20, 2017. (Photos in the post courtesy of NASA).
Their mission is to replace a fuse on a Dextre platform (one of two robotic units that conduct repairs outside the ship), set up an HD camera outside the station, prepare two units for robotic repair by removing their thermal insulation, and replace a light on the other robotic arm unit, Canadarm2's latching system.
Preparing for a spacewalk is an extremely involved process that requires days of preparation. Besides preparing for whatever that particular spacewalk's mission tasks are (whatever components have to be repaired, replaced, removed, etc.), astronauts need to prepare their bodies for the harsh conditions of open space. About an hour before their mission, they need to pre-breathe pure oxygen to eliminate nitrogen dissolved in their blood, which would otherwise be released as deadly bubbles when the pressure is reduced. The astronauts then hop inside the station's airlock as it slowly decompresses from about 101 to 70.3 kilopascals (from the pressure felt on Earth at sea level to 69% of that pressure) until they can exit the station safely. Besides providing the required pressure (57.2 kilopascals – a little over half of the pressure on Earth at sea level) and oxygen, spacesuits protect astronauts from micrometeoroids and the extreme temperatures of space, which range from -250 degrees Fahrenheit in darkness to 250 degrees Fahrenheit when exposed to the sun's rays directly.
This entire process will be livestreamed starting two hours before the actual spacewalk. Check it out Friday on NASA TV starting at 6:30 a.m. EDT.

Thanks for following #CitadelSpaceStar!
Ralf
P.S. Learn more about me here
MESSAGE 24: A BLESSING FROM EARTH
Expedition 53 crewmembers received a very special call from Earth on Oct. 26. They communicated directly with Pope Francis, who asked them questions delving deep into their purpose on the station and in the universe. The European Space Agency's Paolo Nespoli of Italy, another Expedition 53 astronaut, translated as the crew gave contemplative responses to the Pope. Commander Randy Bresnik said that "one cannot work on the space station without feeling touched to the soul; from Low Earth Orbit one realizes there are no national borders and that only a thin band of translucent atmosphere protects every living human on the planet."
Needless to say, Expedition 53 was touched by their dialogue with Pope Francis, who inspired their work by telling them that the ISS shows to our individualistic world the value of collaboration. As he put it, "the totality is greater than the sum of its parts." Read more about the conversation with Pope Francis here.
See you next time,
Ralf
MESSAGE 25: BEAMING IN HOMECOMING MESSAGE FROM THE INTERNATIONAL SPACE STATION
Thank you, Col. Bresnik, for making our 2017 Homecoming even more memorable by sending us this message to use during the game. I wish you could have heard the crowd at the stadium - they went wild!
Very respectfully,
Ralf
MESSAGE 26: ONE WORLD, ONE MANY VIEWS - IMAGES OF THE WORLD FROM A CELESTIAL VANTAGE POINT
International Space Station Commander Randy Bresnik takes amazing photos as part of his daily job. Unlike most common, surface-dwelling photographers, though, he provides shots from the unique perspective of Low Earth Orbit (LEO). From about 250 miles above the Earth's surface, Commander Bresnik and the other Expedition 53 crew members can take some of the most stunning aerial shots of our planet that have ever been recorded. How can we find these beautiful photos? Look no further than Bresnik's Instagram page, @astrokomrade. Follow him to gain access to all his breathtaking images of Earth from orbit, as well as other content including spacewalk selfies, videos of the crew playing with fidget spinners in low gravity, and much more.
In addition to his usual posts, on October 23, Commander Bresnik began a new photographic initiative called #OneWorldManyViews. He reached out to his followers and asked them to send him pictures of Earth from their surface vantagepoint as the ISS made a flyby over their region of the planet. For approximately 90 minutes, the orbital period of the ISS (the amount of time it takes to complete one full orbit around the Earth), Bresnik made Instagram posts prompting people from the region directly beneath the ISS to send photos as he snapped shots of that same area from the cupola of the ISS. Over the next couple of weeks, Commander Bresnik will be posting the Earth photos alongside the ISS photos and showing us just how beautiful and three dimensional our world is. See for yourself below and by following @AstroKomrad on Twitter or Facebook. (Row one - Indonesian temples. Row two - Alexandria, Egypt. Row three - Franz Josef Glacier, New Zealand).
Very respectfully,
Ralf

MESSAGE 27: EXPEDITION CREW FINDS MYSTERIOUS BACTERIA
Russian cosmonaut Anton Shkaplerov has found bacteria outside of the International Space Station that was not present before. But, this is no cause for alarm! Shkaplerov, who is scheduled to be on the next ISS crew for Expedition 54, comforted us by reporting that "it seems that they pose no danger."
These bacteria, which were swabbed on previous spacewalks, likely originated from Earth's atmosphere and were perhaps ejected by flows of space dust that scatter particles and microorganisms outward.
Soon we will have NASA's official word on the bacteria found, but until then we know that our very own Commander Randy Bresnik and the rest of the Expedition 53 crew continue to conduct experiments to help deepen our understanding of life in space.
Here's a picture of Commander Bresnik conducting some "no-nonsense" experiments on Newton's Laws…a little floating fidget-spinning.
And by the way, this evening at about 5:30 Charleston-time Commander Bresnik and the International Space Station will be right over our heads. Be sure to look up and give them a wave.
Commander Bresnik's days on this mission are numbered now, with an aniticipated return flight to earth on Dec. 14.
Very respectfully,
Ralf
MESSAGE 28: HOMECOMING PREPARATIONS FOR TRIP BACK TO EARTH DECEMBER 14
Commander Bresnik continues to report what he sees from space, amidst preparations to return to earth seven days from now. Here is an update from NASA.gov: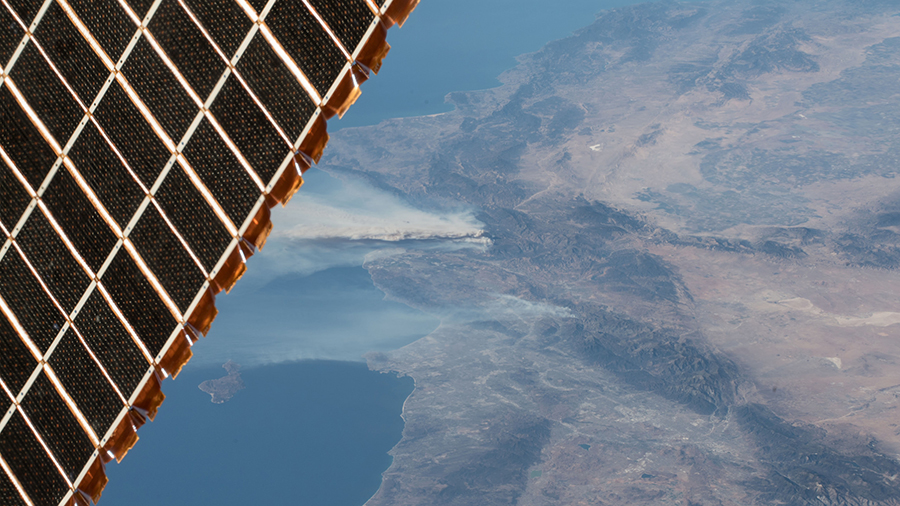 Two International Space Station crews are preparing to swap places at the orbital lab next week. In the midst of the crew swap activities, Commander Randy Bresnik also sent down dramatic photographs of the wildfires in California.
The Expedition 52-53 trio is getting its Soyuz MS-05 spacecraft ready for a three-and-a-half hour ride back to Earth on Dec. 14 after 139 days in space. Sergey Ryazanskiy, the Soyuz Commander, will lead his crewmates Randy Bresnik of NASA and Paolo Nespoli of the European Space Agency to a parachuted landing on the steppe Kazakhstan.
Next, the Expedition 54-55 trio will blast off Dec. 17 aboard the Soyuz MS-07 spacecraft and take a two-day trip to its new home in space. Anton Shkaplerov, a veteran cosmonaut from Roscosmos, will lead the flight to the station flanked by first-time astronauts Scott Tingle of NASA and Norishige Kanai of the Japan Aerospace Exploration Agency.
Back on orbit, Bresnik shared pictures he took on social media of the wildfires threatening the greater Los Angeles area in southern California. He wrote on his Twitter account, "Thank you to all the first responders, firefighters, and citizens willing to help fight these California wildfires."
More wildfire photos can be viewed on the NASA portal.
MESSAGE 29: Reflections on Col. Bresnik's 139 days in space with Expedition 53, and his thougths from space
Col. Randy Bresnik has come a long way since our first Citadel Space Star cadet-blogger Angelica McNerny met up with him on December 8, 2016 at Johnson Space Center in Houston where he was training for International Space Station Expedition 52/53. On that same day, while Cadet McNerny was with Col. Bresnik in Houston, one of the world's most famous astronauts and the first American to orbit the Earth, John Glenn, passed away. Col. Bresnik was kind enough to share his thoughts about this American hero on videotape just a few minutes after he heard the news. It can be watched on Message 3 of the blog.
On December 14, 2016, Bresnik met the nine million horsepower rocket that would propel him into space for his second trip to the ISS, the Soyuz MS735. He had already been training for this mission for more than a year, and in reality, for his entire career. In the months leading up to the launch, Bresnik, Paolo Nespoli of the European Space Agency, and Sergey Ryazanskiy of the Russian space agency underwent a barrage of high tech training exercises at Johnson Space Center and in Russia. It included emergency training in bulky oxygen masks, underwater spacewalk training in the world's largest swimming pool (filled with over 6 million gallons of water!), space suit and ship practical training and simulations, using zero gravity workout equipment, and much more.
He took a couple of brief training breaks. One of them was to remote-in from Russia to The Citadel campus to join a panel of NASA colleagues speaking at our annual Principled Leadership Symposium. Then, in April of 2016, Bresnik paused his training to fly to the Baikonur Cosmodrome in Russia to wait as backup crew for Expedition 51. When that mission launched without a hitch, he got back to preparations for his upcoming command of Expedition 53. The dad of two, and devoted husband also broke for some well-deserved family time.
Col. Bresnik and his crew finally lifted off on July 28, as the world watched them leave the Earth live on NASA TV, docking safety with the ISS to join the Expedition 52 already there. Then on September 1, Randy Bresnik became the first Marine to command the International Space Station.
During Expedition 53 Bresnik took hundreds of breathtaking photographs of the Earth from the ISS, including photos of three massive hurricanes. He led three spacewalks, and advanced science by participating in experiments ranging from the study of cosmic ray particles, to fiber optics in microgravity, to synthetic bone repair, and even muscle atrophy in space mice. He also turned 50 years old, wished his daughter happy birthday from space, and sported a wardrobe of five different Citadel shirts on and off during the mission. Additionally, he helped The Citadel STEM Center of Excellence by taking the time to speak to middle school students in the Charleston area, live from the space station.
Reflections from Randy
During his last week on the ISS, Col. Bresnik generously took time to answer questions from me that NASA was able to get to him from Earth:
RG: What were your main takeaways from your time as commander of the ISS?
CRB: Having the fortunate opportunity to serve as the Commander of the ISS only reinforced my belief that leadership is truly the art of getting things done through people. We were able to accomplish our mission on Expedition 53 because of the people we worked with and through, worldwide. Not only was there peer-to-peer leadership on a daily basis between crewmates, there was also leadership when working with the Mission Control Centers across the globe. There was also plenty of good followership necessary on our part with each other and especially with our control centers as we executed the plan of the day.
RG: How did your experiences at The Citadel and in the Marine Corps affect your role as commander and how can you compare the three experiences?
CRB: The Citadel established the foundation that the Marine Corps built upon that has me here serving as the Commander of the ISS. Without those two, I would not be here. The Citadel taught me that the only limits I had were the ones I placed on myself. The Marine Corps trained me and taught me that the sky is no limit, literally and figuratively.
RG: How have your months in space shaped you and will you have any trouble re-acclimating to life on Earth?
CRB: My time in space has only reminded me of how much I adore my wife and children. I am blessed beyond belief and can't wait to see them again. Physically I will be challenged by gravity again, but we've been working hard every day up here with exercise countermeasures, so I anticipate that period of adjustment to be brief. The daily physical freedom to float and the joy in doing it will be missed, but that is ok. I've served my time and am being properly relieved.
On December 13, there will be another change of command on the space station with Bresnik turning over leadership to the next astronaut in line. On December 14, Col. Bresnik returns to Earth with his colleagues Nespoli and Ryanzanskiy. His trip home to Earth will take place a full year from the date he first touched the rocket that would get him to space.
Godspeed, Col. Bresnik! We'll be watching your return on NASA TV and look forward to celebrating your safe arrival.
Very respectfully,
-Ralf
FINAL MESSAGE: CITADEL SPACE STAR RANDY BRESNIK IS SAFE BACK ON EARTH
NASA Astronaut Bresnik and Crewmates Return to Earth From Space Station

The Soyuz MS-05 spacecraft is seen as it lands with Expedition 53 Commander Randy Bresnik of NASA and Flight Engineers Paolo Nespoli of ESA (European Space Agency) and Sergey Ryazanskiy of the Russian space agency Roscosmos in Kazakhstan on Thursday, December 14, 2017. Bresnik, Nespoli and Ryazanskiy are returning after 138 days in space where they served as members of the Expedition 52 and 53 crews aboard the International Space Station. Photo Credit: (NASA/Bill Ingalls)
Three crew members who have been living and working aboard the International Space Station returned to Earth on Thursday, landing in Kazakhstan after opening a new chapter in the scientific capability of humanity's premier microgravity laboratory.
Expedition 53 Commander Randy Bresnik of NASA and Flight Engineers Paolo Nespoli of ESA (European Space Agency) and Sergey Ryazanskiy of Roscosmos landed at 3:37 a.m. EST (2:37 p.m. Kazakhstan time) southeast of the remote town of Dzhezkazgan in Kazakhstan.
Together, the Expedition 53 crew members contributed to hundreds of experiments in biology, biotechnology, as well as Earth and other physical sciences aboard the orbiting laboratory. Their time aboard marked the first long-term increase in crew size on the U.S. segment of the International Space Station from three to four, allowing NASA to maximize time dedicated to research on the station.
Highlights from the research conducted while they were aboard include investigations of microgravity's effect on the antibiotic resistance of E. coli, a bacterial pathogen responsible for urinary tract infection in humans and animals; growing larger versions of an important protein implicated in Parkinson's disease; and delivering a new instrument to address fundamental science questions on the origins and history of cosmic rays.
The trio also welcomed three cargo spacecraft delivering several tons of supplies and research experiments. Orbital ATK's Cygnus spacecraft arrived at station in November as the company's eighth commercial resupply mission. One Russian ISS Progress cargo craft docked to the station in October. And a SpaceX Dragon completed its commercial resupply mission to station in August, the company's twelfth resupply mission. During his time on the orbital complex, Bresnik ventured outside the confines of the space station for three spacewalks. Along with NASA astronauts Mark Vande Hei and Joe Acaba, Bresnik lead a trio of spacewalks to replace one of two latching end effectors on the station's robotic arm, Canadarm2. They also spent time lubricating the newly replaced Canadarm2 end effector and replacing cameras on the left side of the station's truss and the right side of the station's U.S. Destiny laboratory. Ryazanskiy conducted one spacewalk with fellow cosmonaut Fyodor Yurchikhin in August to deploy several nanosatellites, collect research samples, and perform structural maintenance.
The Expedition 54 crew continues operating the station, with Alexander Misurkin of Roscosmos in command. Along with crewmates Mark Vende Hei and Joe Acaba of NASA, the three-person crew will operate the station until the arrival of three new crew members on Tuesday, Dec. 19.Scott Tingle of NASA, Anton Shkaplerov of Roscosmos and Norishige Kanai of the Japan Aerospace Exploration Agency (JAXA), are scheduled to launch Sunday, Dec. 17 from Baikonur, Kazakhstan. NASA Television will broadcast the launch and docking.
Col. Bresnik,
We are thankful that you are safely back on Earth, and grateful for your ongoing example of leadership excellence in the name of military and international relations, space exploration and science, and our core values of honor, duty, respect.
Very Respectfully,
Ralf, the South Carolina Corps of Cadets and your Citadel family