Parking at The Citadel
Parking at The Citadel is a privilege and not a right. All registrants must comply with the following:
Vehicles must be parked ONLY in the space assigned, at all times. (Cadets Only)
Decals MUST be affixed to front and pack windows as directed. (Cadets Only)
To permit the search of your automobile by proper authority while on The Citadel campus. (All Registrants)
Decals MUST be removed upon termination of Cadet status. (Cadets Only)
Notify Public Safety upon any of the following:

Transfer of Title or sale of the registered vehicle. (Decals do not transfer)
Change of registration status, year, number and/or state. Change of automobile description or change of insurance. (All Registrants)

Vehicle MUST meet State Inspection requirements. Parking on Campus is at the owners own risk. (All Registrants)
To allow no one to operate you vehicle on or off campus without a valid State operators permit. (All Registrants)
Vehicles may be towed at owners expense and risk for excessive infractions of parking regulations. (All Registrants)
Vehicle Operators may be asked to park their vehicles at alternative locations during special events. (All Registrants)
Intentionally supplying false or inaccurate information on this form may result in revocation of the applicants registration privileges. (All Registrants)
---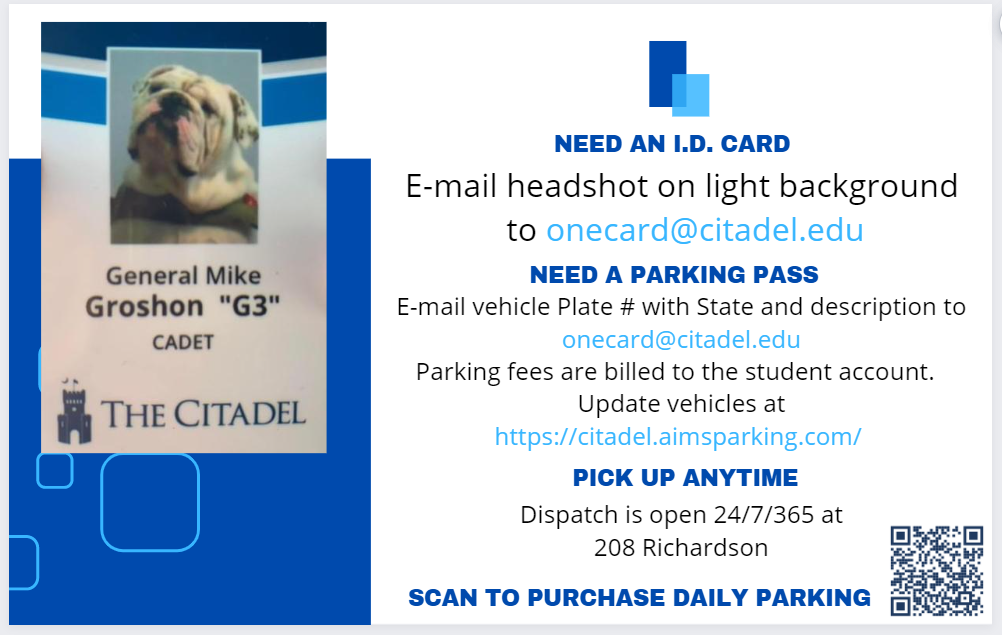 Contact Us
For all parking inquiries, please contact:
Penny Mayton
Parking Program Director
(843) 953-7000
onecard@citadel.edu
208 Richardson
Regular Hours
Monday – Friday: 8:30 am – 5:00 pm
Saturday & Sunday: Closed
Summer (May – August) Hours
Monday – Thursday: 7:30 am – 5:30 pm
Friday – Sunday: Closed
---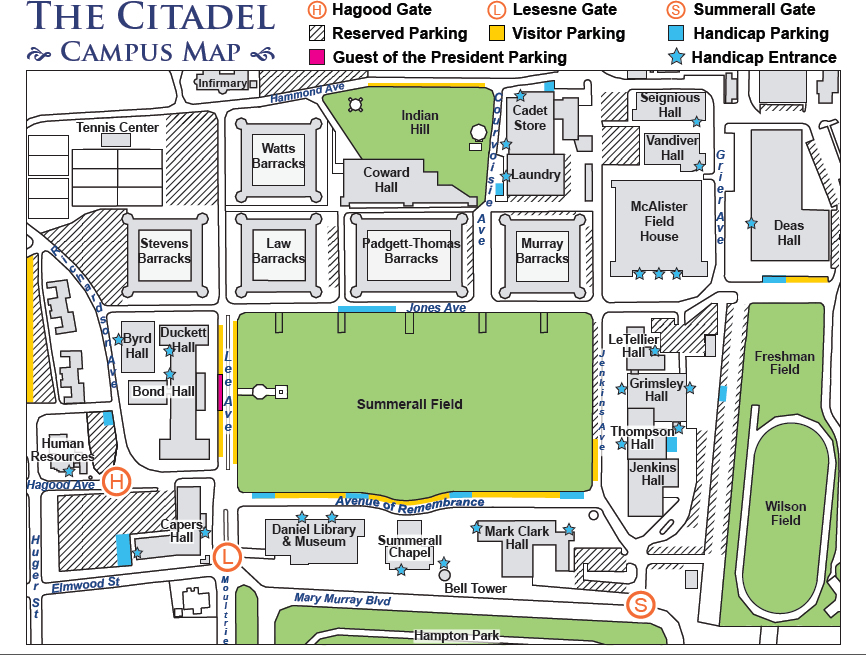 Visitor Parking

There is designated visitor parking along all sides of the Summerall Field parade grounds excluding the road in front of the barracks (Jones Ave), as well as in the rear of Kovats Field parking lot. Visitor parking is also available on Hammond Ave between Coward Hall and WLI Field, and along the side of Deas Hall.Visitor parking is indicated in yellow in the map.
ADA Parking

Parking for visitors with disabilities is marked by bright blue squares.
Special Events Parking

Additional parking is available for visitors during athletic and special events on campus (i.e. graduation, Parents' Weekend). Specific event parking information will be available on event web pages, or you may ask the cadet at the front entrance gate for further assistance.
Click HERE for a printable version of the parking map!