Overview
Today's managers must go beyond the simple command and control of people, beyond the enforcement of rules and regulations, beyond the desire for organizational stability and efficiency; today's managers must understand and employ the full breadth of management skills and capabilities. The management major provides students with the skills and knowledge necessary to ethically lead a going business or start a new venture.
The goal of managing is to help individuals develop the skills to find innovative solutions to the problems that confront today's organizations—whether they are everyday challenges or once-in-a-career crises. It is recognizing opportunities and acting on them. Entrepreneurs are agents of change. Being entrepreneurial requires the ability to think creatively, innovate, and lead the development of an idea to implementation.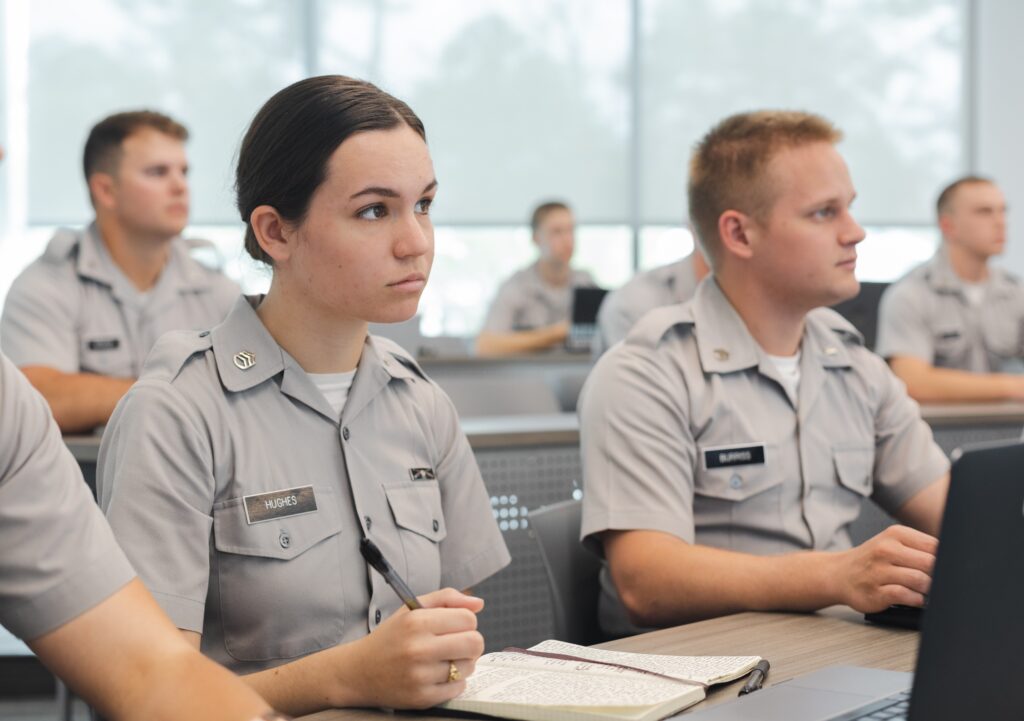 At The Citadel Baker School of Business, we don't teach students to "Think outside the box," we teach students how to obliterate the box altogether. The management major provides students with opportunities to learn how to solve complex problems using traditional and non-traditional methods.
Within the Baker School of Business is our Innovation Lab—a small operation with a large undertaking as it operates as an idea hub for entrepreneurially-minded students across campus. Our mission is to "create principled change agents of innovation that solve complex problems." To achieve this, we teach students to think creatively using a variety of means to solve problems of all sizes.
Intended Outcomes
As a Principled Manager and Entrepreneur, our management graduates develop the knowledge and skills to build trust, inspire commitment, lead change, harness people's creativity and enthusiasm, find shared vision and values, and share authority and responsibility. Our program provides content and guidance regarding how to assess the moral and ethical dimensions of business decisions in a principled manner.
Going beyond rote memorization of the components of management (i.e. planning, organizing, leading, and controlling organizational resources), Management major students engage in their chosen discipline by giving them greater choice in career preparation, offering them academic specialization in the chosen area, providing both tailored and professional advice from a faculty member internally and specialized guidance about their chosen field from a professional in the business world through the Coaching Program, and experientially exposing students through internships and professional development.
Management majors are strongly encouraged to do an industry internship—this is supervised work experience related to the desired career objective.
Coursework
The management major consists of 24 credit hours (eight courses) from the Management & Entrepreneurship Department and other courses from the Baker School of Business that contribute to a robust understanding of management and entrepreneurship. Twelve hours are required courses; and, the remaining twelve hours are four elective courses that may be courses from other business discipline-specific classes found in the college catalog or other general college classes that are selected in consultation with the student's business academic advisor. Courses will build upon and contribute to a logical career path (e.g., taking a psychology course in human behavior because the future career path is in the residential real estate industry).
Required Courses
| Course | Title |
| --- | --- |
| ENTR 301 | Principled Entrepreneurship and the Free Enterprise System |
| MGMT 311 | Human Resource Management |
| MGMT 411 | Business Ethics |
| ENTR 401 | Small Business Management/Entrepreneurship |
Elective Courses
| Course | Title |
| --- | --- |
| ACCT 403 | Federal Taxation |
| BLAW 303 | Commercial Law |
| BLAW 311 | Principles of Real Estate |
| ENTR 411 | Technology & Entrepreneurship |
| FINC 303 | Financial Modeling |
| MGMT 307 | Leading Inclusion & Diversity |
| MGMT 313 | Leading Teams |
| MGMT 421 | Management Information Systems |
| MGMT 460 | Business Internship |
| MGMT 470 | Special Topics in Management |
| MGMT 480 | Undergraduate Research in Management |
| MGMT 490 | Independent Study in Management |
| MKTG 303 | Business Development 1 |
In consultation with your faculty advisor, other courses may be selected from any discipline that will strengthen your skillset for this major.
Advisement
Students in the Management & Entrepreneurship Department are assigned an advisor from faculty in the discipline. Students are matched with academic advisors and career professionals for academic and practical matters relative to pursuing their desired career path.
Extra-Curricular Components
The Management major also includes a number of extra-curricular components:
Coaches – Coaches from the Coaches Program with experience in the field that the student wishes to pursue are assigned.
On-campus clubs and activities – Students have access to and are encouraged to participate in free enterprise related clubs, organizations, and events including the Bulldog Business Bowl student business plan competition, an evening bi-weekly reading group that meets to discuss books and articles provided for students, and a lecture series in entrepreneurship and free enterprise.
Internship & independent study opportunities – Students are encouraged to do internships, which provides exposure to and experience in their desired career fields, or an independent study with a faculty member on a formal research project.
---