Accreditation of The Masters of Science In Project Management (MSPM) and Graduate Certificates in Technical Project Management (TPM), Systems Engineering Management (SEM), and Technical Program Management (TPgM).
The Citadel was visited by the Southern Association of Colleges and Schools (SACS) in Spring, 2014. As a result of that visit, The Citadel, and all graduate and undergraduate academic programs were fully accredited. There were no findings, and The Citadel will not be visited again by this accreditation body until 2024.

In the spring of 2015, The Masters of Science in Project Management (MSPM) program received an on-site visit by the Project Management Institute (PMI) Global Accreditation Center for Project Management Education Programs (GAC). This visit capped a 3-year effort to prepare the MSPM program for the rigorous standards of the GAC. In addition to detailed review of all course materials and procedures, the GAC on-site team of 3 professors met with professors, students, alumni, administration, advisory board, and support staff. As a result of this 3-day visit, the on-site team found no discrepancies and the program was awarded a 7-year accreditation. Seven years is the maximum allowable length of accreditation until the next review. At that time The Citadel MSPM became just the 26th Program in the United States to earn this distinction.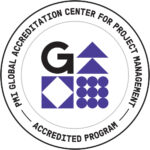 Dr. Tracey Richards (left) of Embry Riddle University, representing the PMI GAC, presents the MSPM accreditation plaque to Dr. Connie Book (Citadel Provost) at a reception held at Mark Clark Hall on 25 September 2015.