Finance Major
Financial services are a very important part of the U.S. economy and whether you want to become a financial analyst or financial planner, the Major is the option for you.
The School of Business' Finance Major guides students to explore many career opportunities available by exposing them to the aspects of financial services through academic study, extracurricular activities and internships. Students pursuing the a finance degree are encouraged to join and explore networking opportunities made available through the program.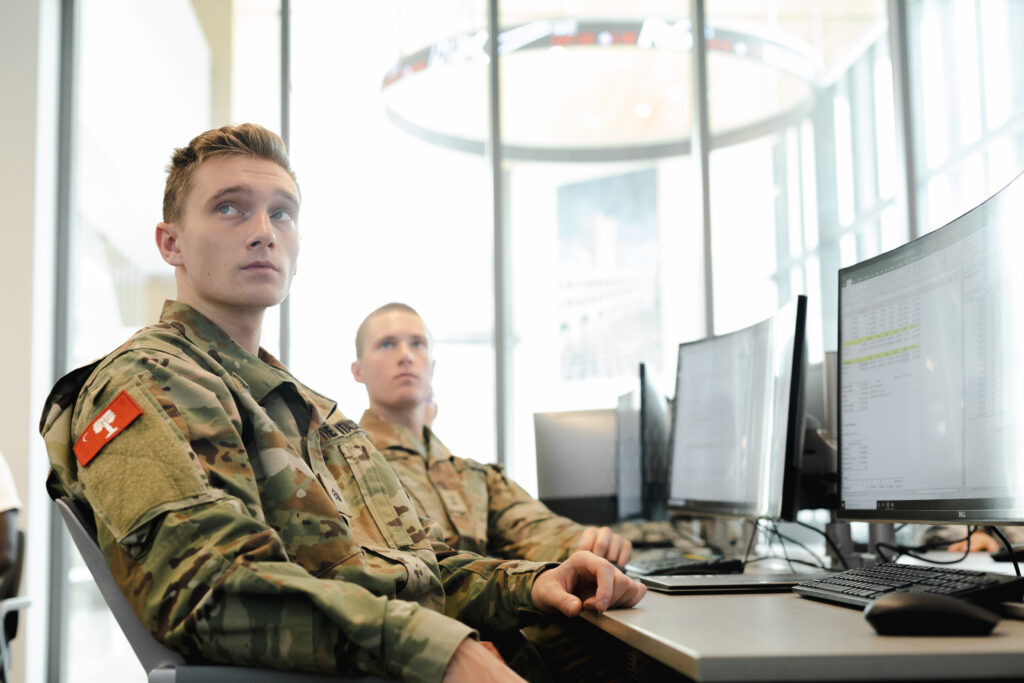 What can I do with a career in financial services?
Do you want to be a commercial banker, portfolio manager, or investment banker? Perhaps you prefer helping people plan their future savings or plan to build their dream home instead as a personal financial planner. These options are just a few of the possible careers you may pursue by following the Finance Major.
Because of the many possible careers in the financial services industry, there is also a broad spectrum of possible salaries. Students should review the U.S. Department of Labor's Occupational Outlook Handbook for detailed information regarding the financial services field or a specific career title. While salary is certainly not the only reason to choose a career, it is a very important part of planning your career path
The Rick and Mary Lee Bastin Financial Leadership Lab: In addition to offering career oriented courses, the Bastin Lab provides a state-of-the-art lab built to simulate a real trading floor for financial services students. The lab features 29 computer terminals with 19-inch dual monitors, a 22 foot, full-color ticker display, a 92″ LED market video wall, two 55″ data displays and access to a wide range of financial data and analytical tools such as Morningstar Direct, WONDA, fi360 Toolkit for Advisors, and Oracle Crystal Ball. The lab aims to extend educational goals by connecting theory to real-world applications, increase student knowledge and expertise and help students build their leadership skills.
The Citadel Financial Management Association (FMA): The Citadel Financial Management Association is a student-run organization for students that are interested in finance and investments. The club introduces students to concepts relevant to their financial future and provides a forum for students to interact with finance professionals. Ultimately, the club's purpose is to assist students in transitioning from school to a business environment. Members of this club may also be eligible for the FMA National Honor Society described below, also.
Financial Management Association National Honor Society: The Financial Management Association National Honor Society recognizes undergraduate and graduate students that have demonstrated superior scholarship and achievement in the area of finance at colleges in the United States, Canada and Great Britain. It is the only international organization that specifically rewards outstanding academic performance in the disciplines of finance and financial services.
For more details about the Finance Major and/or its Student Organizations, please contact Dr. Wesley Jones, Department Chair.
For information about the course requirements for those seeking a degree in Finance, please see our college catalog or Academic Degree Map for Finance. 
---